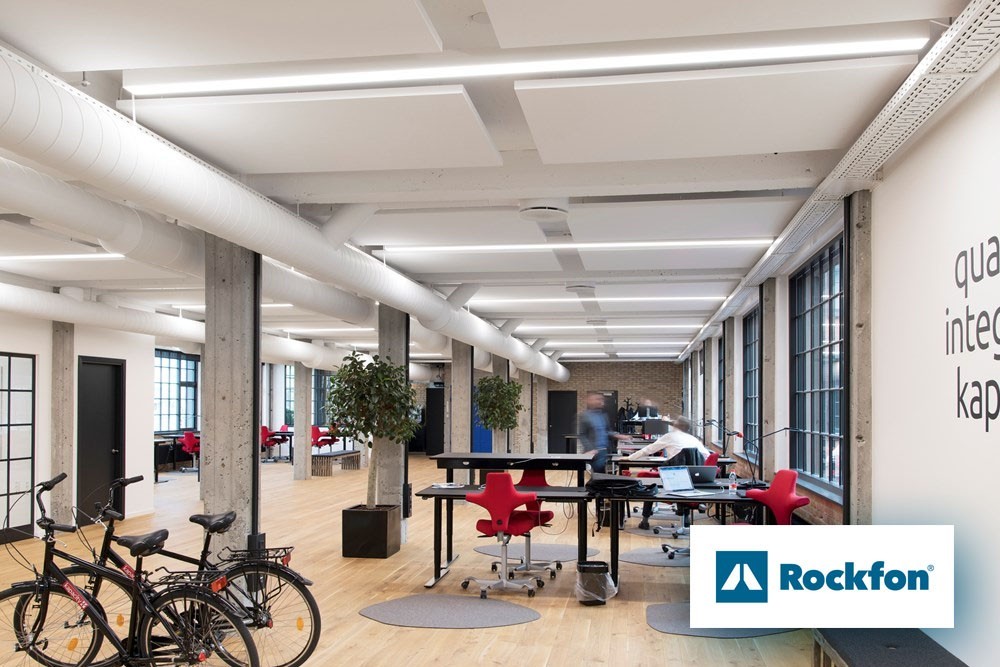 Rockfon acoustic panels are made from the world renowned Rockwool product. Rockwool is made from basaltrock, in a man-made process somewhat similar to the way lava is made naturally in volcanos. The rocks are melted in a furnace, then spun into fibres and processed in different ways to produce a range of products, including acoustic treatment products.
Rockfon by Rockwool provides;
Handles moisture by either repelling liquid water or letting water vapour easily pass through it.
Is sustainable and health safe.
Rockfon is indeed, a very useful product!
Rockfon® Optimised Acoustics
What makes Rockfon stone wool acoustic ceiling tiles the best acoustic panels for absorbing sound? The key is understanding the true role of your ceilings and your walls. Optimise your acoustic and aesthetic designs with a sound solution for the real world.
Everywhere you look, new, modern spaces are coming to life and while these open-concept spaces promote communication and collaboration, they also increase one main challenge – noise. Now more than ever going beyond good acoustics is as important as the look, feel and function of a space. And it starts by choosing the right ceiling material to achieve the best level of sound absorption for your space. There's a lot of noise out there. Take your acoustic design to the optimised level.
Fire resistant ceiling products
Rockfon fire-resistant stone wool ceiling materials protect what matters most – people. They can delay the spread of fire and provide the vital extra minutes needed to limit property damage and help people reach safety.
With fires developing five to 10 times faster today than in the 1950s, the safety of building occupants and fire fighters depends overwhelmingly on how the building performs during a fire. Importantly, this includes the release of thick toxic smoke, which kills more people than the fire does.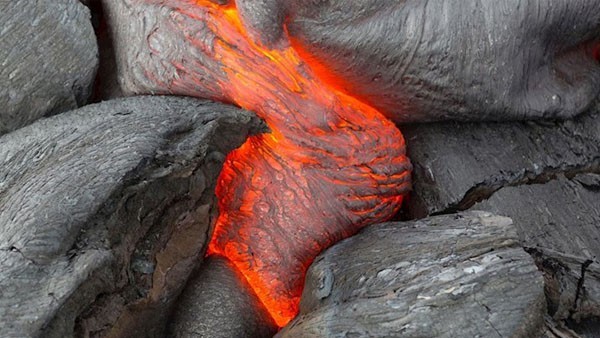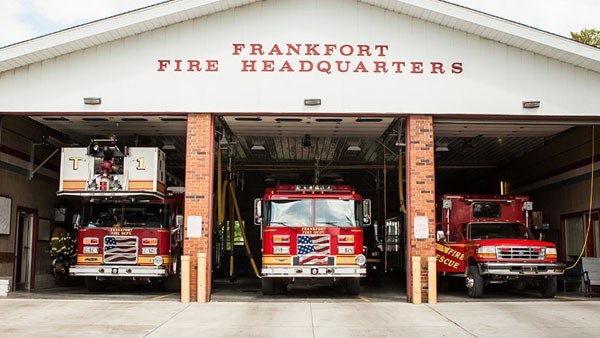 Rockfon stone wool products will not develop toxic smoke. The core material is non-combustible. It does not contribute to the development and spread of fire, even when directly exposed to flames.
Given stone wool's volcanic origins, it can withstand extreme temperatures up to 1177 Celsius. All of these beneficial qualities of stonewool contribute to adding the critical moments needed to find safety in the event of a fire.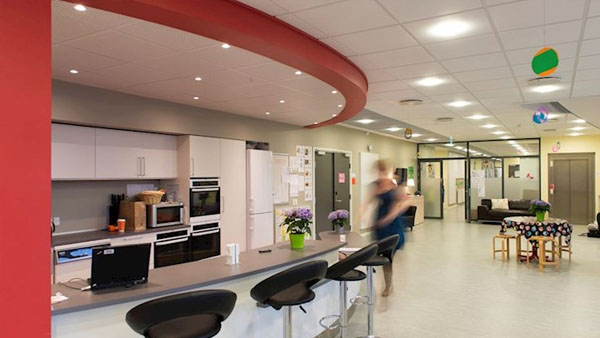 Achieve your acoustic ceiling ideas for drop ceilings with Rockfon's decorative ceiling solutions including choices of colours and finishes, textures and perforations, edge types, material options, sizes and patterns.
Beyond the modern monolithic look of smooth, white, 2×2 panel-and-grid drop ceiling system solutions, today's interior ceiling design ideas explore many different styles from a bold accent to a subtle shadow to a signature, custom creation.
Providing design flexibility and inspiration, our breadth of acoustic ceiling systems meet almost any décor and aesthetic you can imagine with:
Colourful acoustic tiles, shiny anodized aluminium panels, black baffles or wood-look metal planks
Coordinating or dramatically contrasting finished suspension systems
Smooth or lightly textured stone wool surfaces
Lay-in square edge tiles, angled tegular profiles or concealed grid systems
Large format or rectangular sizes
Staggered patterns or customized layouts
Standard or custom metal perforations
Concave or convex curves and arches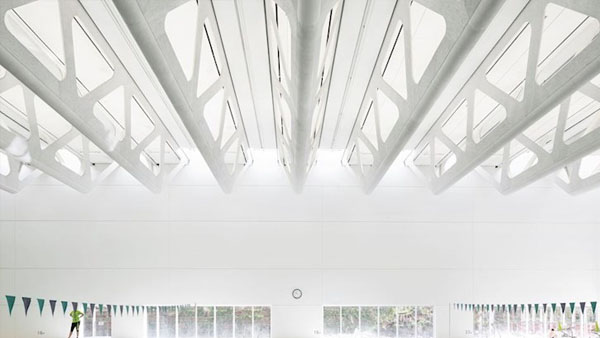 Humidity , Water & Mould Resistant
Stone wool is a hydrophobic material, meaning it does not absorb water and does it not hold moisture. This makes stone wool ceiling panels not only humidity-resistant but also sag-resistant. They remain dimensionally stable even up to 100 percent relative humidity.
With some acoustical ceiling tiles, humidity can weaken the structure of their materials and cause them to sag, drooping beneath their ceiling suspension system. In extreme cases, sagging ceiling tiles may even fall out of their grid. This often will happen in buildings under construction, where the building is not yet temperature-controlled and humidity-controlled, or materials have not yet dried.
Rockfon stone wool ceiling panels do not warp, curl or cup. They do not rot nor corrode. With virtually no organic content, they are naturally resistant toward mould, mildew and microorganisms. There is no risk of sagging – even inconsistently "wet" rooms like kitchens, restrooms and pool areas.
Because our stone wool and metal ceiling products are not organic, they do not promote the growth of mould or bacteria. Through their inherent material makeup, there is no need to incorporate fungicides or antimicrobials to achieve these mould-resistant properties.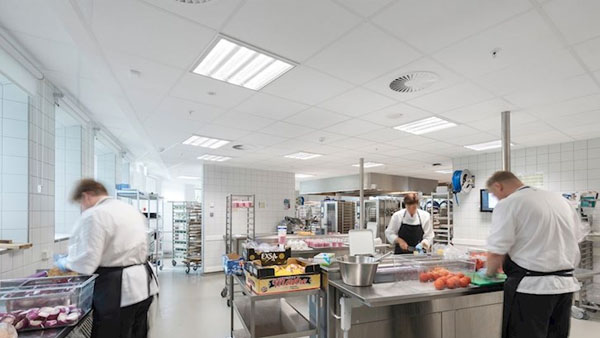 Hygienic, Health Safe and Sustainable
Hygienic ceiling tiles and systems help reduce the spread of infection and uphold the highest levels of cleanliness
Building material surfaces, including ceiling tiles, play an important role in controlling the spread of bacteria and infection. To create a safe environment:
These materials should not provide nourishment for potentially harmful microorganisms.
Their surfaces should be easy to clean and disinfect without affecting their appearance or performance.
The ceiling panels also should be durable and demountable to accommodate any necessary maintenance in the plenum.
Rockfon stone wool ceiling products meet all of these criteria. This makes them well suited for hospitals, medical clinics, laboratories, pharmaceutical manufacturers, food processing facilities, restaurants and clean rooms.
The raw materials that rockwool is manufactured from, basalt, anorthosite and carbonates, are regarded as inexhaustible reserves. These reserves are renewable in a geological sense.